Carfest South 2016
Once again we had the pleasure of taking a Morris Minor to Carfest. This time we were in the Vintage Village at Carfest South. Cream Teas, trad jazz and classic war time tunes, Morris dancers and some really classic cars. Lucy and Charlotte looked fab in their vintage dresses complementing the smoke grey convertible with navy blue hood. A classic combination. Zac played with The Proclaimers on the friday night after a day on the stand so it was a bit of a Ware double bill that day.
Classics Monthly - Fitting Traveller wood
The continuing saga of the Footman James raffle prize. After a change of ownership the Classics Monthly team have handed over the project car to be completed in our workshops. Already raffled the prize has not yet been drawn as the car needs some completion. In this article Paul Wager follows the fitting of the wood and body alignment of this Smoke Grey Morris Minor Traveller. Having arrived in our workshop in boxes there is great progress being made.
Apprentice Success
Though our name isn't mentioned we are the Bristol company who have taken on 3 apprentices from this course. They are young and green, but very enthusiastic and seem to have a real desire to learn the sets of skills relating to traditional welding, panel beating, paint, mechanics and trim. We are looking forward to growing them into the classic car restorers of the future.
Bristol Restoration Show November 2014
Looks like we are doing a lot of car shows this year. Here we are again at our favourite showground . We added to the stand this time by taking a handbuilt seat from a 1956 Minor. In Mulberry it is known as a 'bucket' seat beacause of the curved back. though it's not like any bucket we've ever seen. We also got a lot of attention for our demonstration disc brake and telescopic conversion mock up. An old conversion from the 80's it still does the job and is one of our most popular conversions. The brakes especially.
The car we took this time belongs to a Dutch customer who had a full chassis restoration, full body and paint work, a new timber kit and complete interior trim in Biscuit. They also had a reconditioned 1098 engine and gearbox fitted. This car is his business vehicle and is known as the Tea Traveller, providing a party service - picnic hamper UK style.
The show is being taken over by Morton's the publisher so I'd like to thank Nigel Stevens for all of his years running the show. Mortons promise to keep it as good as it's ever been.
35th Bristol Classic Car Show 2014
Once again it was a pleasure to have a stand at the Bristol Classic Car Show. Good to see a few of the regular faces and to meet some new ones.
This year we took two cars.
A rebuilt Trafalgar Blue Traveller with almost every addition one can think of. Not just the 1275cc engine and 5 speed box but electrical upgrades that even included heated seats and a modified 2 stage head for extra poke. A very bespoke job and much admired by all.
We also took a very fine example of a genuine convertible. Repainted in Old English White it is a very straight car with few modifications. The series III seats in early red and cream Duo-tone style added a modern but also classy touch. With the beautiful weather outside the Showering Pavillion it was a real shame that we couldn't take it for a drive around the grounds. With a Left Hand Drive conversion it is a smooth drive and ready to be exported to Germany.
Footman James newsletter
Thanks to all those at Footman James Insurance for this wonderful write up in their Newsletter this month. Please follow the link below to read more.
http://www.footmanjames.co.uk/blog/charles-ware-morris-minor
Featured Garage - Charles Ware Morris Minor Centre
27 March, 2014
Tags: featured garage, motor trader, morris minor
This month's 'Featured Garage' is Charles Ware Morris Minor Centre; a Morris Minor specialist, who specialises in the repair and restoration of Morris Minors and other classic cars.
We visited Zac Ware, son of Charles Ware, to ask him a few questions regarding his business and the motor trade industry in general.
1. Biography - tell us about your business
We provide a specialised service in the restoration, care and repair of Morris Minors and other classic cars. We offer a complete range of new and used Morris Minor parts and spares and have unrivalled experience and specialist expertise. We cover all aspects of restoration including bodywork/spraying, trim and upholstery, welding and mechanics.
The majority of our customers are based in the UK and have owned their cars for a long time, but we have also seen young drivers having an interest in these vehicles. They come to us for parts and expert help as they like the idea of restoring these cars themselves. We do also have a few customers abroad and have a loyal customer base.

2. Tell us about your background - how did you get into the motor trade industry?
This business was originally my father's passion, having worked in the building trade Charles Ware was an avid supporter of conservation in the building industry having campaigned against the demolition of buildings in Camden and the Georgian houses in Bath.
He spotted a gap in the market for Morris Minors in 1976. With the close of production a few years earlier, he recognised this much loved vehicle was still in popular demand.
Myself, my first passion is music, I am lucky enough to be able to make a living in music being a guitarist for the Proclaimers but I do enjoy the restoration side of the business.

3. Can you give us some history about how the business came about and how it has evolved.
My father set up this business in Bath, initially buying and selling Morris Minors. Over the years this has developed to include restoration and has further expanded to selling the parts Worldwide. Today trading from Bristol the business has been passed to me and I continue the legacy of this Iconic British vehicle.

4. What is the most usual or interesting vehicle you have worked on?
Morris Minor was the first British car to sell a million units. In 1960 a limited edition of 350 Minor 1000's were made celebrating the Millionth Minor produced, all finished in lilac paint and had white and gold leather seats with special 'Minor 1000000' badges, approximately 40 are known to have survived to date. We currently have one of these rare Minor Millions in our workshop undergoing restoration.

5. What do you most enjoy about the motor trade business?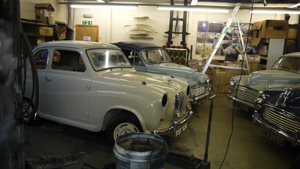 Seeing the vehicle come in as a rusty, wreck of a car and leaving the workshop having had new lease of life breathed into it. From wreck to riches!!
What better way to reduce your carbon footprint than to restore a classic car which is cheaper to run and insure and is enjoyable to drive.
We use traditional hand crafted techniques and have some exceptionally skilled people, some have been here over 30 years.
I believe we provide something durable which is a part of our British heritage.

6. How would you say the motor trade industry has changed over the years?
It's much more difficult to get staff with the skills. We were looking for a panel beater recently and it took a little time to find someone who had the skills and was used to the physical work involved.

7. Where do you see your business in 10 years?
We have such great skills here and experience in classic car restoration we would love to apply these skills to other marquees of cars. Charles Ware's is synonymous with Morris Minor restoration but we do also restore many other marques of classic cars and I see our business expanding more into these areas.
We are also looking to enhance our online parts buying offering.

8. What would you say are the challenges for your business in the future?
The reducing numbers of Morris Minors and trying to source parts causes its own challenges. We are looking to expand restoration out into other marques such as the older Mini cars.

9. Has the current economic times impacted on your business?
In 2007 we did feel the effects of the credit crunch but today Morris Minor is seen as a more desirable vehicle and is one of the cars of choice that a classic car collector wants in his collection.

10. If you where prime minster for the day, what would you do to help the motor trade industry?
The encouragement of the apprenticeships scheme in the industry and government support to help businesses with this is something I'd look at.
Also breaks in taxation to help businesses grow and invest would also be useful.

11. What vehicle would you most like to own?
One that works !!

12. What advice or tips would you give to someone who is just starting in the industry?
In the vehicle restoration industry you will need more than a desire to set up a business to make money, you also need the passion and a real love for what you do.
It's not a quick way to make money; it is loads of hard work and dedication.
Email: This e-mail address is being protected from spambots. You need JavaScript enabled to view it
New online catalogue from Charles Ware's Morris Minor Centre Ltd
www.morrisminorspareparts.co.uk
Based on our well known printed catalogue, the diagrams are larger, clearer and up to date. The content of the catalogue reflects the parts currently available and is even more comprehensive than the printed version. As well as the spare parts for the original Minor specifications there is a section dedicated to the 'Series III' upgrade kits to keep your Morris fit for modern driving conditions.
There is an easy to use search function and a catalogue site map to help you find your way around the site. This comprehensive website in conjunction with friendly and knowledgeable staff at the end of the phone, will enable you to find the parts you need for the continuing care of your Morris Minor.
Morris - A Minor Documentary
Once again Matt Holt from MGL media has done the Morris Minor proud with this fabulous documentary focud=sing on the Minor drivers of today and yesteryear. Featuring the Morris Minor Young Members register, Mike Barson from Madness, Martin Wainwright - author of 60 years - a Biography and our own Zac Ware.
The NEC Classic Car Show 2013
This was our first visit to the NEC show for a fair few years. Charlie did it a few times many years ago. We have to thank Mr Shakespeare for the loan of his recently restored 1968 Maroon 'B' Traveller. after 30 years on blocks he felt it was time to have it totally rebuilt. We think we have done a very good job and thankfully a lot of the visitors to our stand agreed.
We went for the whole 3 days and spoke to a lot of people. Old customers, new customers and (we hope) potential customers.
Our film by Matt Holt played on the big TV screen and we were pleased to see that it grabbed attention and stopped a few people for it's 15 minutes duration.
Director Tim Brennan gave his 37 years of Morris Minor experience to those who saw us on Friday. Saturday saw Darren Mackrell - mechanic, and Stores Manager - Tony Waters chatting away. On the Sunday we had two of our longest serving members of staff, Adrian Fry from car sales and Paul Bidgood from the welding shop join us. The stand was manned all weekend by Zac Ware and Lucy Gardner. We all enjoyed the weekend and the opportunity to talk to visitors.
This Year was The Centenary of the Morris Car Company. The Morris clubs as a whole took over a large proportion of hall 17 with Austins, Wosleys joining the Minors, 8's and Commercial vehicles. A very impressive selection including a Morris from 1913, the first year of production.
Zac had the honour of drawing the raffle prizes with Ray Newell, who, by the way, was named Club Personality of the year due to his tireless work pulling all the Morris clubs together in this centenary year. The raffle was held to raise money for the MMOC's stands at all the shows this year as well as subsidising it's own major event at Cornbury.
Zac also put on his guitar and joined in with the team at Practical Classics magazine in a saturday evening, 3 song concert. The song theme was pretty obvious and we covered Mustang Sally, The Beatles-Drive My Car and Cars by Gary Numan. you can see the videos on you tube. A bit of fun and minimal rehearsal. But a potential for the next year of shows. Watch this space!
Mustand Sally http://youtu.be/aeGAo9GPqgs
Drive My Car http://youtu.be/9U3Q006f7kQ

Charles Ware and the Humble Morris Minor
Thanks to Matt Holt of MGL media for spending a couple of days at the centre filming and recording interviews to produce this film about Charles Ware and his Morris Minor Centre as it is in 2013. 37 years after it first began. We hope it gives those who have not been here a sense of the centre's scale and purpose.
Morris Minor and MGL Media
As one of the MGL Media team is already a member of the official Morris Minor club and the proud owner of a Morris Minor convertible, they have to admit to being a little biased when it comes to this humble little car. In fact they already have a film in production, "The Morris: A Minor Documentary", which will appear in the coming months.
Matt Holt of MGL Media in their upcoming documentary.
RHS Chelsea Flower Show 2013
For the third year running we are honoured to be at the Chelsea flower show on a stand with The British Plant Nursery Guide. Thanks again to Gilly and Dave Pollock for all the care they take on presenting the stand. This year they also had Country Living magazine sharing their pitch. As usual there was more to The Plant Nursery Guides stand than one would expect. As well as the increasing number of growers who came up for the day to promote their nursery there is an increasing number of well sourced gifts and handi-crafts. On press day - the day that royalty and celebrity rub shoulders with RHS members - Gilly had her girls fashioning retro hair styles. Not sure if David Bellamy, Alan Titmarsh or Jerry Hall got their hair done, but they didn't mind having a photo opportunity with our Rebuilt, Porcelain Green, Morris Minor Traveller.
Once again The British Plant Nursery Guide got a commendation for the presentation of their stand.
Classic Touring Book
Classic Car Buyer has put together this excellent book of classic car journeys. Taking you on the A and B roads of Britain it highlights some great drives, countryside and towns. Done over a day many of the drives are recommended to be taken over 2 or 3 days to make the most of the different points of interest along the way. We are priviledged to have provided the car for the opening article on a trip from Bristol to Weymouth.
It is on sale from WH Smiths and other newsagents.
Classic Car Weekly Best Trade Stand - Footman James 2013
We are very proud to have won Best Trade Stand at the 34th Bristol Classic Car Show 2013. The award was presented to us by the Editor of Practical Classics, Danny Hopkins. He recently restored one half of his Travellers timber and followed it in Practical Classics. Charles Ware was there on the Sunday afternoon and was able to pick up the prize with his son Zac. The stand was busy all weekend and we got to talk to a lot of old customers and hopefully a lot of new customers. The proud owner of the car, Mr John Edmunds, also visited the stand to look at the car that he 'll be picking up two weeks after the show.
The car is a rebuilt Traveller in Almond Green. It has Quite a few customer specified upgrades including: disc brakes, brake servo, alternator, series III front seats, sat nav socket, 1275cc engine, 5 speed gearbox, 2 speed wipers, halogen headlamps and an anti theft battery immobilizer.
MMOC National Rally Raffle Prizes
On June 15-16th The Morris Minor Owners Club are holding their Annual Rally in Cornbury, Oxfordshire. This is a special year as it is 65 years of the Morris Minor, but a full 100 years of the Morris Company. We will be joining in these celebrations by going to the rally for the whole weekend and donating a prize to the raffle. We will be contributing with a complete set of brake cylinders, including the master cylinder, 2 pairs of front brake cylinders and 1 pair of rear brake cylinders. We feel a good practical prize is always useful.
Looking forward to seeing you there!
Classic Car Buyer February 2013
It was very nice to see a letter from Zac Ware featured on the letters' page of Classic Car Buyer this month.
Classic Car Buyer February 2013
Thank you to Classic Car buyer for this article on the attractiveness of owning a Morris Minor. We've been saying it for years! Please click on the Classic Car Buyer recommends for the full article